Tasty Spicy Cauliflower Soup recipe, no cream needed! This easy soup delivers big flavor and comfort, perfect for anyone looking for a healthier choice. Warm, satisfying, and simple to make.
Affiliate disclosure: This post contains affiliate links, which means I may receive a small commission, at no cost to you, if you make a purchase through a link.
Why you'll love this spiced cauliflower soup recipe
Full of Flavor: This soup is bursting with bold and spicy tastes that wake up your palate.
Light and Healthy: Without cream, this cauliflower cashew soup is a lighter option that's still creamy and satisfying. Like healthy pumpkin soup without cream and roasted garlic tomato soup.
Vegan-Friendly: Perfect for those who prefer plant-based meals or want a break from dairy. (Replace the yogurt in the topping with coconut cream, as mentioned in the recipe tips below.)
Nourishing: Packed with the goodness of cauliflower, it's a nutritious choice that feels good to eat.
Easy to Make: Simple recipe, minimal ingredients, and delicious results in no time.
Comforting: A warm bowl of soup that soothes and comforts, perfect for chilly days or anytime comfort is needed.
Ingredients
(You can find the exact measurements and instructions in the printable recipe card at the end of this page.)
Cauliflower: Use a fresh one without any brown spots. The stems can also be used for the soup.
Oil: I've used olive oil. You can also use ghee or a mix of oil and ghee for flavor.
Stock: You can use vegetable or chicken stock. If you don't have either, just use water. In that case, remember to add salt.
Spices: Chili powder, coriander powder and turmeric add a spicy kick to this cauliflower soup. Use the regular Indian chili powder (or cayenne pepper) if you like some heat in your soup. Use Kashmiri chili powder (or paprika) if you want the chili flavor without the heat.
Yogurt: This is for topping and is optional. But I highly recommend using it to balance and boost the flavors of the soup. Here I've used homemade hung curd. You can use store-bought yogurt.
How to make spicy cauliflower soup: step by step
Sauté
Heat oil in a deep soup pot. Add bay leaves and chopped cashews. Sauté for a couple of minutes.
Add diced onions, ginger and garlic. Stir until the onions turn translucent.
Chop cauliflower into florets. You can also use the stems. In case of larger stems, peel the outer tough layer before chopping. Add the florets and sauté for 5 minutes.
Boil
Add about 3 cups of stock or water.
Add the spices: chili powder, coriander powder, turmeric and salt.
Mix well and cover the pot. Increase the flame and bring it to a boil. Reduce the flame to medium and simmer for 5 to 10 minutes until the cauliflower is cooked. Obv, the cooking time will depend on how small your florets are.
Remove and discard the bay leaves. They've done their job 🙂
Let the soup cool down.
Blend
Blend the contents of the pot using a high speed blender until smooth. You can also use an immersion blender. (In that case, you don't have to wait for it to cool down before blending.)
Adjust water and seasoning as required. Simmer for a couple of minutes.
Serve in individual bowls with your favorite toppings.
Toppings
You can make this spicy cauliflower soup even more interesting with lots of toppings. Feel free to use any of these suggestions:
Yogurt: Mix together yogurt, lemon juice, chilli flakes, salt, pepper and ground cumin. Drizzle on the soup before serving. (Same as in the pumpkin soup with carrots and the recipe for red cabbage soup.)
Vegan option: Replace yogurt with coconut cream in the topping above.
Nuts: Toast some cashews or almonds. Chop them up and sprinkle on the soup.
Seeds: You can also use roasted sesame, nigella or sunflower seeds.
Herbs: Coriander leaves and mint leaves add a hint of freshness to the spiced soup.
Sauces and chutneys: Did you make any of the chutneys like restaurant-style green chutney or healthy avocado chutney? Drizzle a few spoons for deeper flavors.
Croutons: Dice a few slices of bread and toast. While toasting, add some garlic butter to make garlic croutons. Serve with the soup for a cozy, comforting dinner!
Fried onions: This cauliflower cashew soup tastes great with some crispy fried onions or shallots.
Recipe tips
After blending: Do not bring the soup to a rolling boil. Remove from heat when it is hot enough to be served. You will lose some of the flavors if you boil the soup again.
Scaling: This recipe can be easily multiplied to serve more people.
Chili flakes: You can totally avoid chilli flakes if they freak you out 🙂 I like to add them for aesthetic purposes.
Storing: This spicy cauliflower soup lasts in the fridge for about 4 days. If you want to store it longer, freeze it. This soup can be frozen for a month. Do not add yogurt or any other topping if you're planning to store the soup for later use.
Reheating: Again, do not re-boil the soup. Thaw in the fridge overnight if frozen. Reheat until it is hot enough to eat.
What to serve with spicy cauliflower soup
Crusty Bread: A simple baguette, garlic bread, or whole-grain bread is a classic choice to serve with soup.
Salad: Make a light dinner out of this cauliflower soup with chana salad. Or if you're very hungry, have a sumptuous dinner by pairing it with paneer tikka salad.
Tikka and Kababs: The Indian spiced cauliflower soup also pairs well with paneer tikka or tandoori chicken tikka.
Grilled Cheese Sandwich: A classic grilled cheese sandwich can be an excellent accompaniment to spicy cauliflower soup. The combination of the creamy soup and the crispy, cheesy sandwich is delightful.
Avocado Toast: Top whole-grain toast with sliced avocado and a sprinkle of salt and pepper. This adds a creamy and healthy element to your meal.
Roasted Vegetables: Since you're already enjoying cauliflower, consider roasting some more vegetables like potatoes and broccoli to serve alongside the soup.
Fruit: A side of fresh fruit, such as sliced apples or mixed fruit chaat, can provide a refreshing contrast to the spiciness of the soup.
Health benefits of spiced cauliflower soup without cream
Spicy cauliflower soup, like many vegetable-based soups, can offer several health benefits when prepared with wholesome ingredients:
Low in Calories: Cauliflower is an excellent choice for those looking to manage their calorie intake while still enjoying a hearty soup.
Rich in Nutrients: Cauliflower is packed with essential nutrients, including vitamins C and K, folate, potassium, and dietary fiber. These nutrients are important for overall health and well-being.
High in Fiber: The fiber content in cauliflower helps support digestive health by promoting regular bowel movements and reducing the risk of constipation.
Antioxidant Properties: Cauliflower contains antioxidants such as vitamin C and various phytonutrients, which can help protect the body's cells from damage caused by free radicals and reduce the risk of chronic diseases.
Anti-Inflammatory: Spices used to make the soup, such as chili peppers, coriander and turmeric, can have anti-inflammatory properties, potentially reducing inflammation in the body.
Weight Management: The combination of cauliflower's low calorie content and fiber can help promote feelings of fullness, making it easier to control appetite and manage weight.
Heart Health: The fiber and potassium in cauliflower can contribute to heart health by helping to regulate blood pressure and reduce the risk of heart disease.
Immune Support: Vitamin C, found in cauliflower, is known for its immune-boosting properties, helping the body fight off infections and illnesses.
Digestive Health: Fiber-rich cauliflower can promote a healthy gut by supporting the growth of beneficial gut bacteria and preventing digestive issues.
Diabetes Management: The fiber content in cauliflower can help stabilize blood sugar levels, making it a suitable choice for those with diabetes.
Bone Health: Cauliflower contains vitamin K, which is important for bone health and may help reduce the risk of osteoporosis.
Cancer Prevention: Some compounds in cauliflower, such as sulforaphane, have been studied for their potential to inhibit the growth of cancer cells and reduce the risk of certain cancers.
More soups
★★★★★Did you try this recipe? Please give a star rating in the comments below ★★★★★
HUNGRY FOR MORE? Join over 1000 home cooks like you who subscribe to my weekly newsletter to get all the latest recipes right in your inbox. Or follow me on your favorite social media: Facebook, Pinterest, Instagram, and YouTube. Thank you and happy cooking!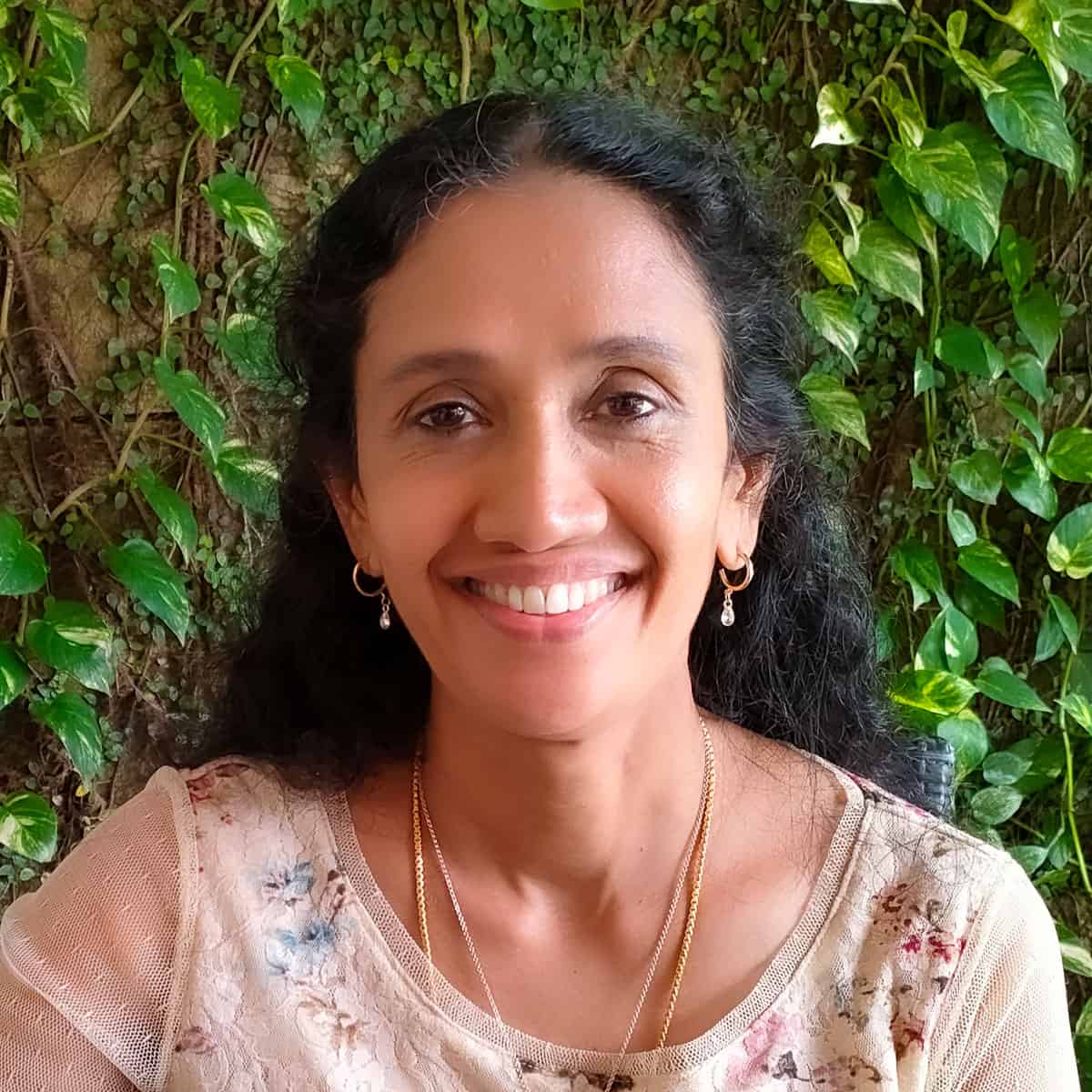 Hi! I'm Sheeba, welcome to Go Healthy ever after!
I have a passion for cooking delicious nourishing food that's easy to cook with fresh natural ingredients free from additives or preservatives. The easy healthy recipes you find here will inspire you to cook with creativity.
Copyright secured by Digiprove © 2023