This is a delicious recipe for fish cakes without potatoes, flour, or breadcrumbs. All these are replaced by a secret ingredient! Crunchy, but no dipping or coating required! These fish cutlets look gourmet, yet unbelievably easy to make!
FEATURED COMMENT
I served this with a few other fish dishes with friends a short while ago. Everybody raved about these fish cakes.
WAMMY
Affiliate disclosure: This post contains affiliate links, which means I may receive a small commission, at no cost to you, if you make a purchase through a link.
Why you'll love this fish cutlet recipe
These homemade fish cakes without potatoes are the ideal comfort food you need to perk up your mood on a cold day. They are perfect as an appetizer or main course with a salad.
This fish cutlet recipe can easily become your favorite EVEN if you don't feel great about fish. And don't forget to add them to your party menu!
Like most of my seafood recipes, these fish cakes are easy to make and healthy. (Like the baked panko-crusted cod and spicy baked mustard fish.) They are ideal for meal prep as they can be made ahead and frozen or refrigerated.
Fish cakes without potatoes
I'm not against potatoes, but fish cakes made with potatoes tend to be too potato-ish, totally enveloping the dish. You want fish to be the hero here, right? So do away with potatoes in this recipe.
That's the reason I don't use potatoes in chickpea patties as well.
LOVE POTATOES? Try the Italian potato croquettes with cheese, beetroot kebabs or roasted potatoes with broccoli for easy side dishes.
Do you hate fish, yet want to try eating it because of its health benefits? Or you want to start eating fish and don't know where to start?
You've come to the right place. These fish cakes have the right amount of seasoning and don't taste or smell "fishy" at all. Like my quick and easy prawn masala fry, they are so HEALTHY, so TASTY!
Why are these the best fish cutlets?
The unique seasoning with onions, tomatoes and simple spices is the secret behind this healthy fish cake recipe.
The other secret ingredient is oatmeal. It plays the role of 3 ingredients: flour, breadcrumbs and potatoes and makes the fish patties crunchier and tastier. Since oatmeal doesn't have a distinctive taste of its own, it brings out the flavor of the fish, which is not the case when potatoes are used.
Which fish is the best for making cutlets?
I've used mackerel here, but this fish cake recipe is quite versatile like the Mangalore fish curry. It can be made with any fish- fresh or frozen. They taste great with salmon, tuna, cod, sardines or any other fish.
Pomfret also can be used. But usually, I prefer to make tandoori fish or Kerala fish curry with coconut with pomfret when I have limited time to cook dinner.
Canned fish works great, too. In that case, the fish cakes are even easier to make since you can skip the step of boiling the fish. Leftover cooked fish also works for this recipe.
If you want a quick salmon recipe, try these oven-baked salmon kabobs or pan seared citrus salmon.
Watch how to make fish cakes without potato
Ingredients
(You can find the exact measurements and instructions in the printable recipe card at the end of this page.)
Fish, of course.
Vegetables and seasoning– Onions, tomato, ginger, garlic and spices.
Binding agent– eggs+oatmeal.
For frying– vegetable oil.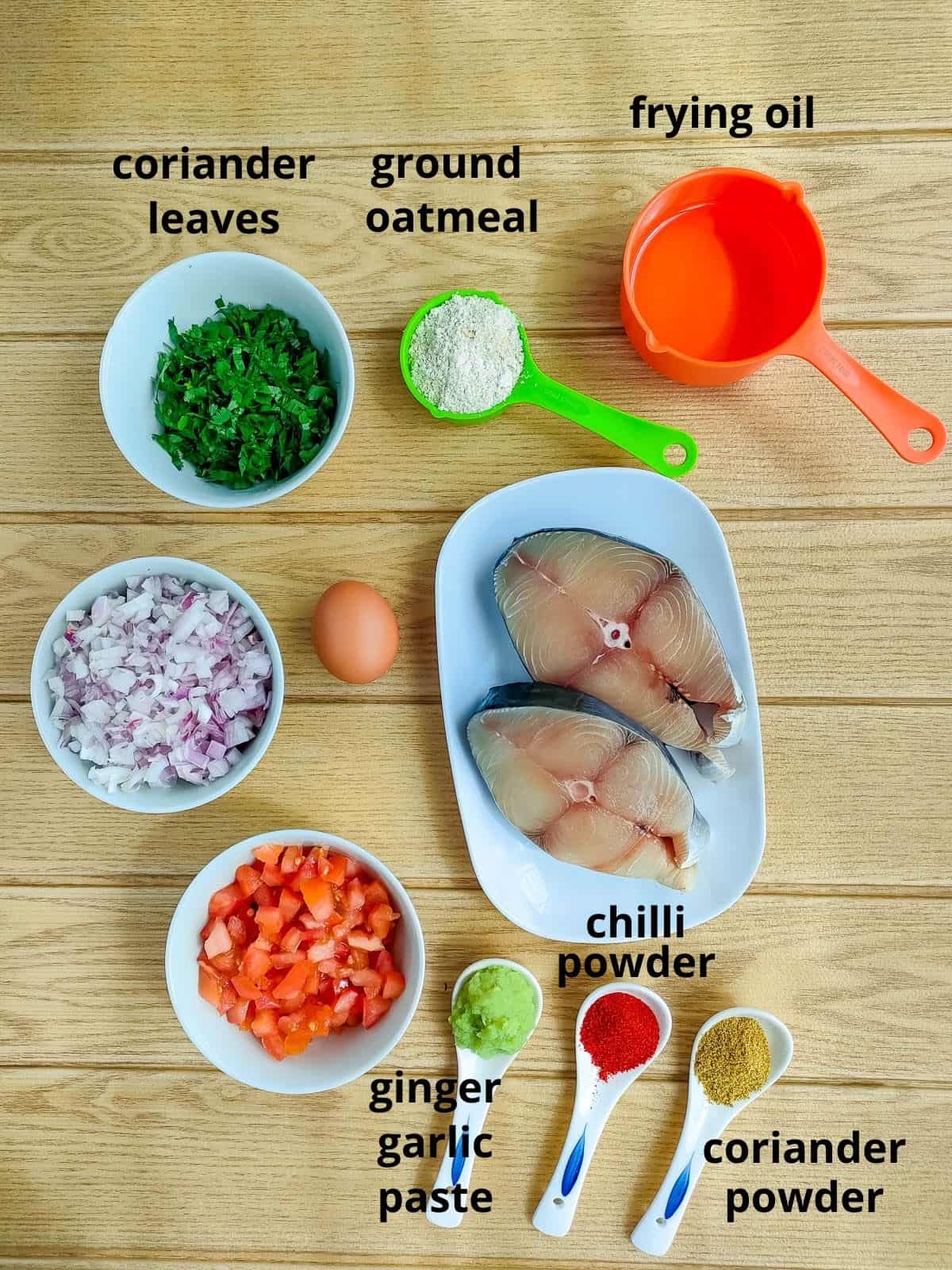 How to make fish cutlets- step by step
(You can find the exact measurements and instructions in the printable recipe card at the end of this page.)
Do you get intimidated when you think of fish cakes that require dipping in flour, brushing with egg wash, coating with breadcrumbs, etc, etc.? Don't be. Here you just follow these 4 steps:
Boil the fish, remove skin and bones, if any and mash. Grind the instant oatmeal to a coarse powder.
Saute onions, tomatoes, ginger, garlic with spices.
A quick tip: Skip this step by using 1 cup of Indian curry paste. It can be made in advance and refrigerated or frozen. Or give it a Thai spin by using this Thai green curry paste instead.
Mix the mashed fish with the onion-tomato mixture, egg, ground oatmeal and cilantro.
Shape the mixture into patties and shallow fry in batches. Done!
What to serve with simple fish cakes without potato
These Indian fish cakes taste great as is. If you want to make them extra-special, make a simple cashew-yogurt dipping sauce that's much healthier than tartar sauce.
A simple dip made of yogurt, lemon juice, salt, pepper and finely chopped cashews and cilantro, it complements the flavors of the fish cakes so well. See the exact measurements in the recipe card below.
For a complete meal, pair these fish cutlets with feta walnut beetroot salad or beet orange salad with ginger dressing.
Common questions about fish cutlets
How do you keep fish cakes from falling apart?
Fish cutlets require a binding agent to keep them intact. In this recipe, we use egg and oatmeal for the purpose. Oatmeal acts as a substitute for potatoes and flour.
Why are my fish cakes soggy?
Fish cakes don't come out crispy if there is excess moisture. After boiling the fish, pat them dry before flaking and mashing. The mixture for the fish cakes should be firm so that you can easily shape them into patties. If it's not, try adding 1 or 2 more tablespoons of ground oatmeal with a dash of salt and pepper.
How long will fish cakes last in the fridge/ freezer?
Fried fish cutlets will stay fresh for about a week in the fridge and 1 month in the freezer. Thaw them before reheating in the microwave or oven.
If you're storing the mixture before frying, shape them into patties first. They can last for about 2 days in the fridge or up to 3 weeks in the freezer.
Can fish cakes be cooked from frozen?
These homemade fish cakes have to be thawed before frying. Since we're trying to keep them healthy by shallow-frying them in less oil, the insides of the fish cakes may not get cooked if they are frozen.
Are fish cutlets healthy?
This fish cutlet recipe uses natural ingredients and less oil, in addition to the fact that fish is one of the healthiest foods. The homemade yogurt-based dip adds to the health benefits of this appetizer.
Grab a printable copy of the curry paste mentioned above with 7 different curry recipes to cook with it:
Health benefits of fish
One of the healthiest foods on the planet, fish has numerous evidence-based health benefits. It is an excellent source of omega-3 fatty acids and a rich source of Vitamins D and B2.
Other nutrients include high-quality protein, iodine and various vitamins and minerals, being rich in calcium and phosphorus, along with iron, zinc, iodine, magnesium and potassium.
That's why eating fish may lower your risk of heart attacks and strokes. It is also essential for the development of the brain and eyes.
Regular consumption of fish is known to reduce the decline in brain function due to aging, prevent and treat depression, reduce the risk of autoimmune diseases, prevent the risk of asthma in children, protect your vision in old age and may improve sleep quality.
And what more, fish is delicious and easy to prepare!
★★★★★Did you try this recipe? Please give a star rating in the comments below ★★★★★
HUNGRY FOR MORE? Join over 1000 home cooks like you who subscribe to my weekly newsletter to get all the latest recipes right in your inbox. Or follow me on your favorite social media: Facebook, Pinterest, Instagram, and YouTube. Thank you and happy cooking!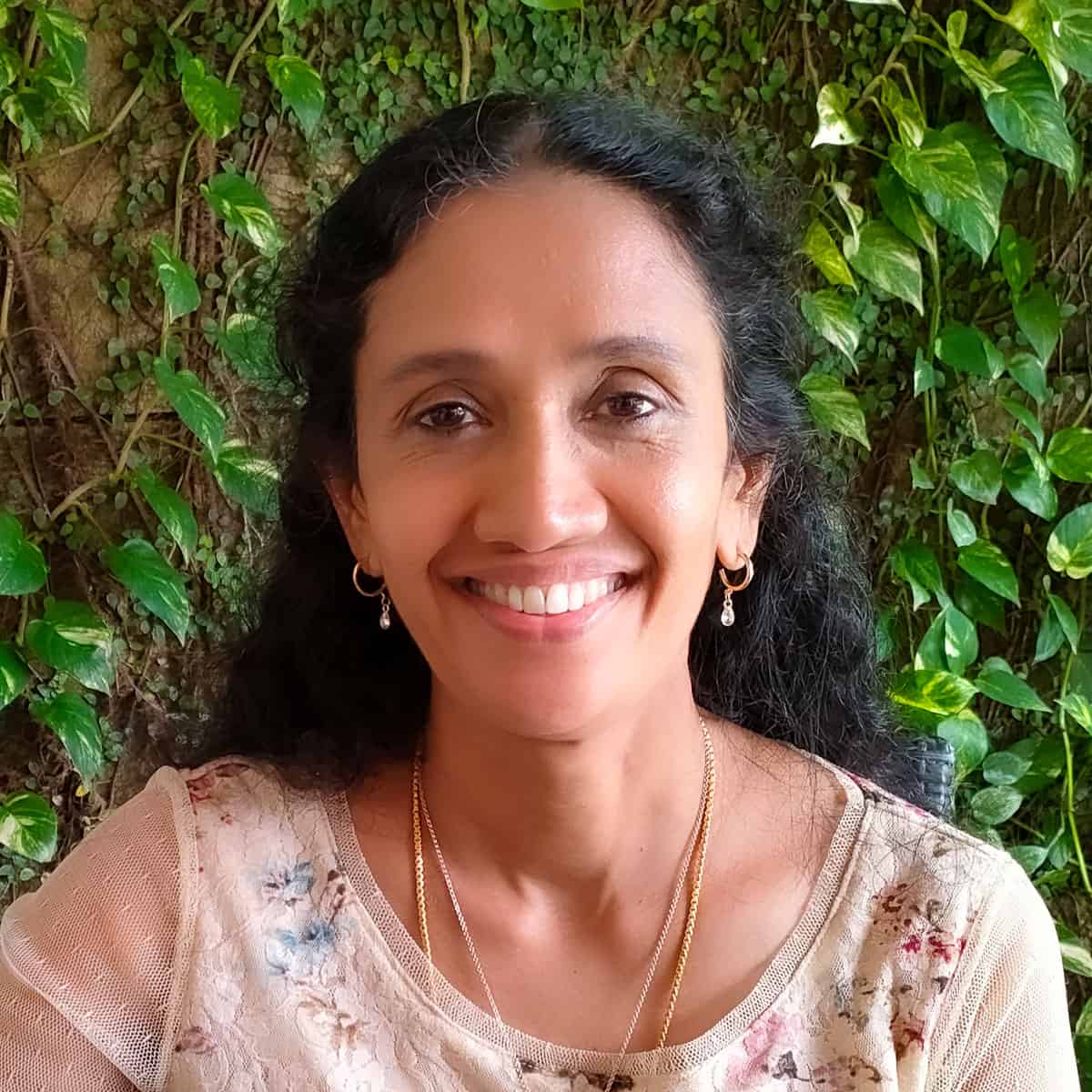 Hi! I'm Sheeba, welcome to Go Healthy ever after!
I have a passion for cooking delicious nourishing food that's easy to cook with fresh natural ingredients free from additives or preservatives. The easy healthy recipes you find here will inspire you to cook with creativity.
This recipe was originally published in December 2017 and has been updated with new photos to give you an awesome experience!
What do you think of this recipe? Please share in the comments section if you made and liked these fish cakes.
Copyright secured by Digiprove © 2019-2023