This avocado chutney is a sugar-free, oil-free chutney recipe that can be used as a side or dip for your tikka, tandoori, and kabobs. If you're looking for an easy chaat chutney for your snacks and sandwiches, this is the recipe you may not want to miss!
Why you'll love this avocado chutney
Avocado chutney is my go-to chutney when I'm making chaats, Indian salads, or sandwiches. Also when I'm craving something that's creamy and spicy and also healthy, this no-cook avocado chutney saves the day!
Lots of goodness from heart-healthy avocado and the abundance of herbs make this green chutney recipe one of the healthiest.
Of all my green sauces like green mint chutney, Thai basil pesto, roasted garlic pesto, this avocado chutney is my favorite.
Reason?
It is extra creamy and has the added health benefits of avocado. This is also one of the easiest Indian recipes with avocado (another one being my mango smoothie with avocado!)
Another reason: Unlike my green mango chutney, this is a no-cook chutney recipe. Though both chutneys taste equally great, I secretly love this recipe more!
It is so liberating to know that you don't have to wait for the chutney to cook after you're done making those tikkas or chaat items. Just leave everything to your food processor. BOOM! Oil-free, sugar-free avocado chutney in minutes!
Video
Ingredients
(You can find the exact measurements and instructions in the printable recipe card at the end of this page.)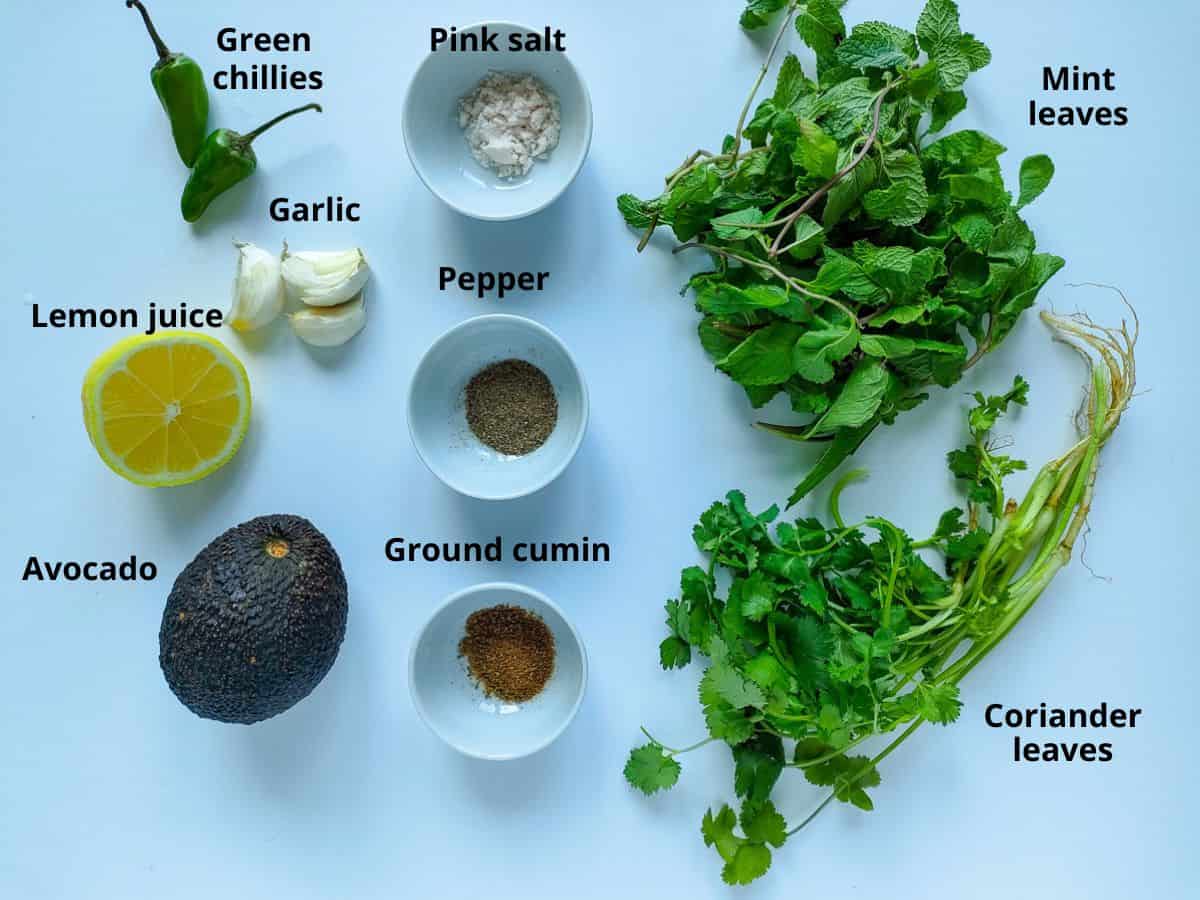 Avocado – Choose well-ripened ones. Just one is enough to make a cup of this amazing sauce.
A LOT of mint and cilantro/ coriander leaves – 1/2 cup each for the refreshing flavors.
Lemon juice – avocado with lemon juice and herbs is always a winning combination, as in our favorite guacamole.
Green chilies – for that spicy edge.
Himalayan pink salt – for added flavor. Use regular salt if not available.
Ground spices– Pepper and cumin for the spice lover 😉
How to choose (buy) ripe avocados
When you buy avocados, choose the ones with the stem attached. Ripe avocados are very dark green (almost black) in color on the outside and light green inside.
They should be firm but should yield slightly when you apply pressure near the stem. If they are ripe but you're not using them right away, store them in the refrigerator.
If you buy green ones, leave them on the kitchen counter until they ripen. They would take about 1 to 2 days to ripen. If you want to use them earlier, store them in a paper bag with ripe fruits.
An avocado that is mushy or dented on the outside is most probably spoilt.
Love avocados? You might also like the pineapple avocado salsa.
How to make avocado chutney
This vegan avocado chutney is SO EASY to make. Roughly chop the green chillies, garlic and coriander leaves. Squeeze fresh juice out of the lemon. Just throw all the ingredients into the food processor and blend.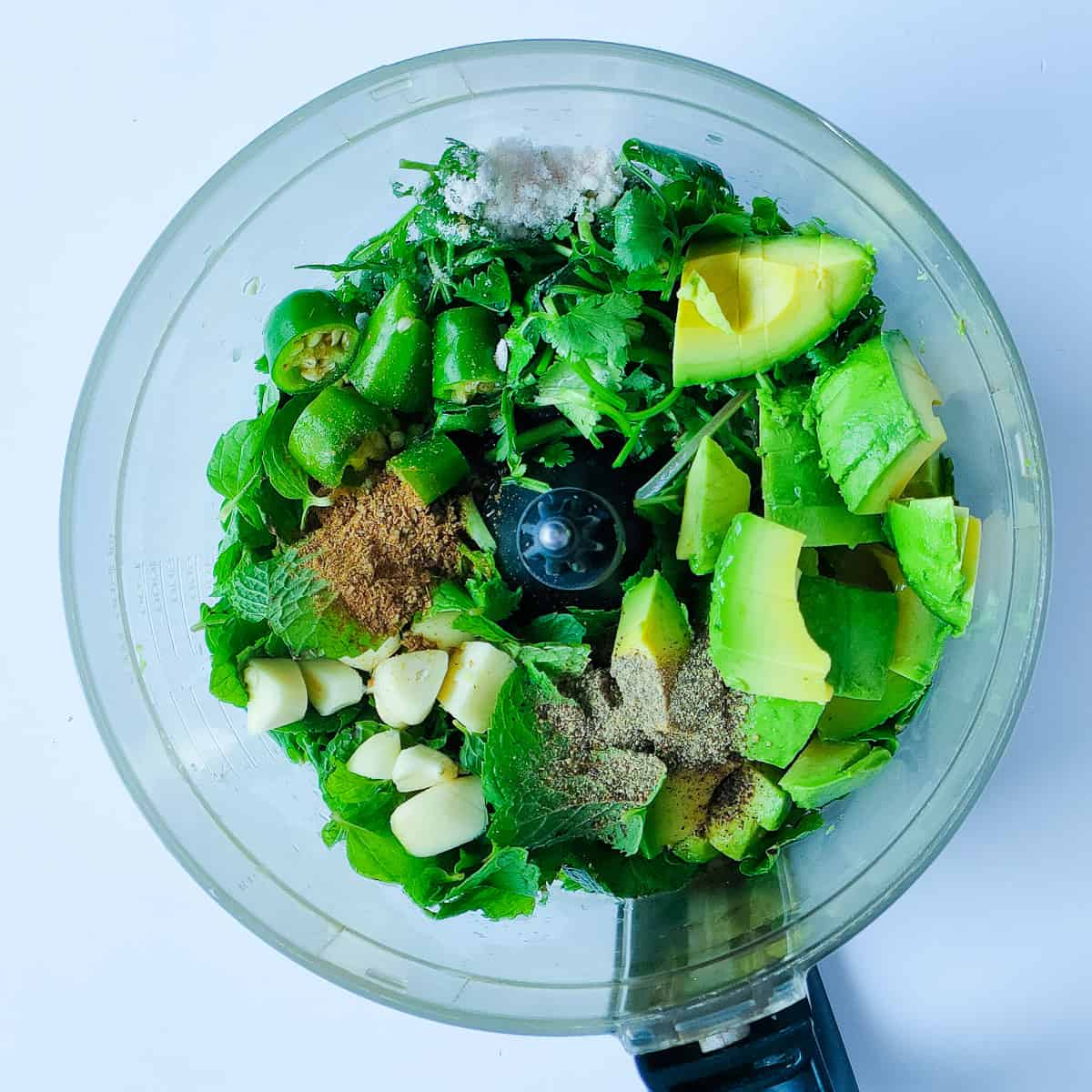 You can blend until it is smooth and creamy or leave it chunky with little bits of herbs still visible. I prefer the second one, but it is totally up to you! Store in the refrigerator until ready to use.
Variations
Add a 1/2-inch piece of ginger for added "chutney" flavor.
Add 1/2 teaspoon of lemon zest for more citrus flavor.
If you have only mint or cilantro, feel free to double the amount of the herb you have.
If you're using the chutney for chaat or salad, add 1/2 teaspoon of chaat masala. (adjust salt accordingly since chaat masala has salt)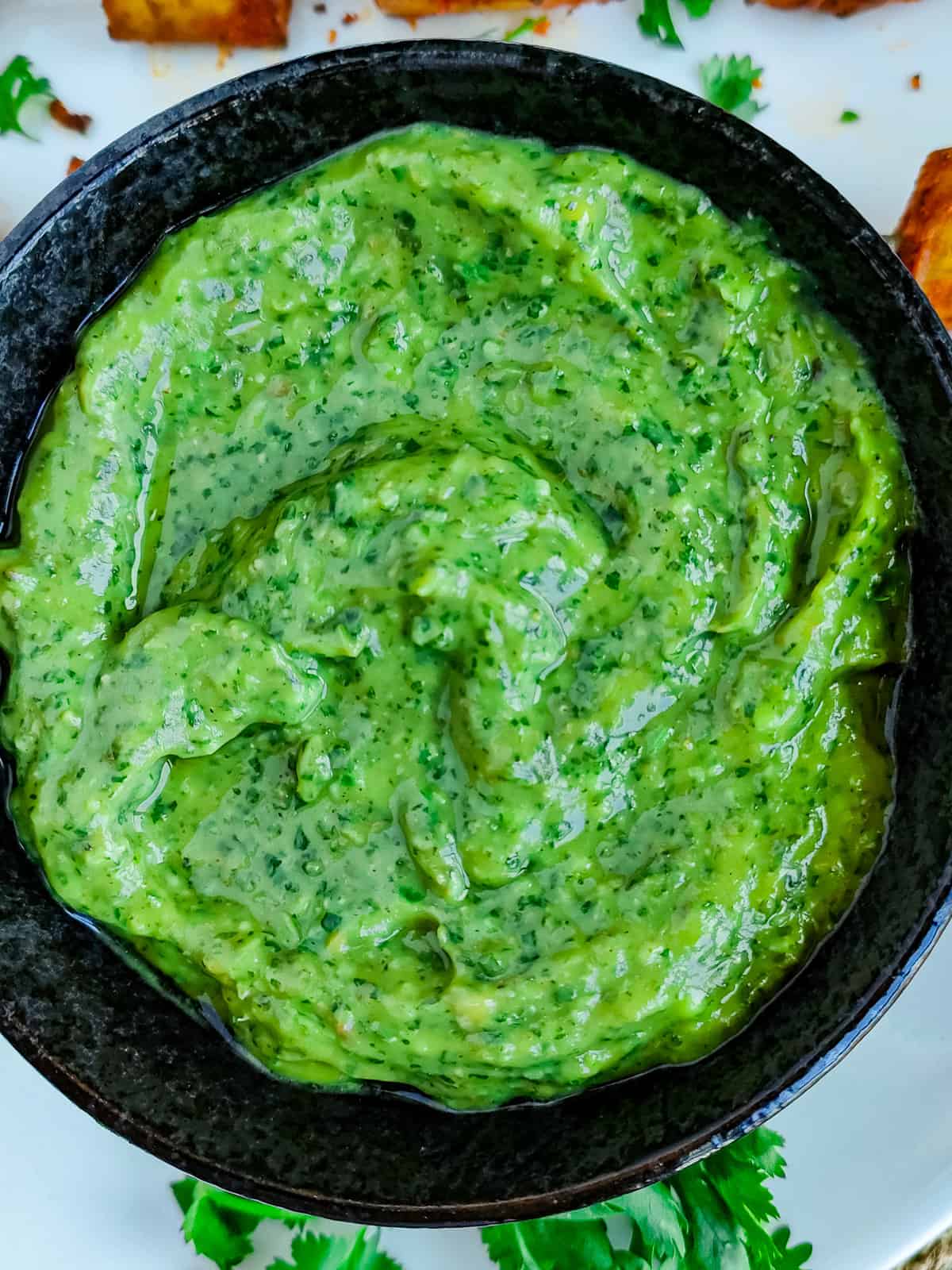 Make-ahead option
Another bonus point: Since this avocado chutney is DAIRY-FREE, it keeps well and can be refrigerated for even a week. The lemon juice helps the chutney stay FRESH and GREEN, too!
When you have an abundance of avocados, just double or triple this sauce and store it for different recipes from chaats and sandwiches to sides for tikka and tandoori dishes.
Making it for a crowd
This recipe for avocado chutney can be easily scaled up or down. Use the slider that will appear if you hover your mouse over the number of servings in the recipe card below.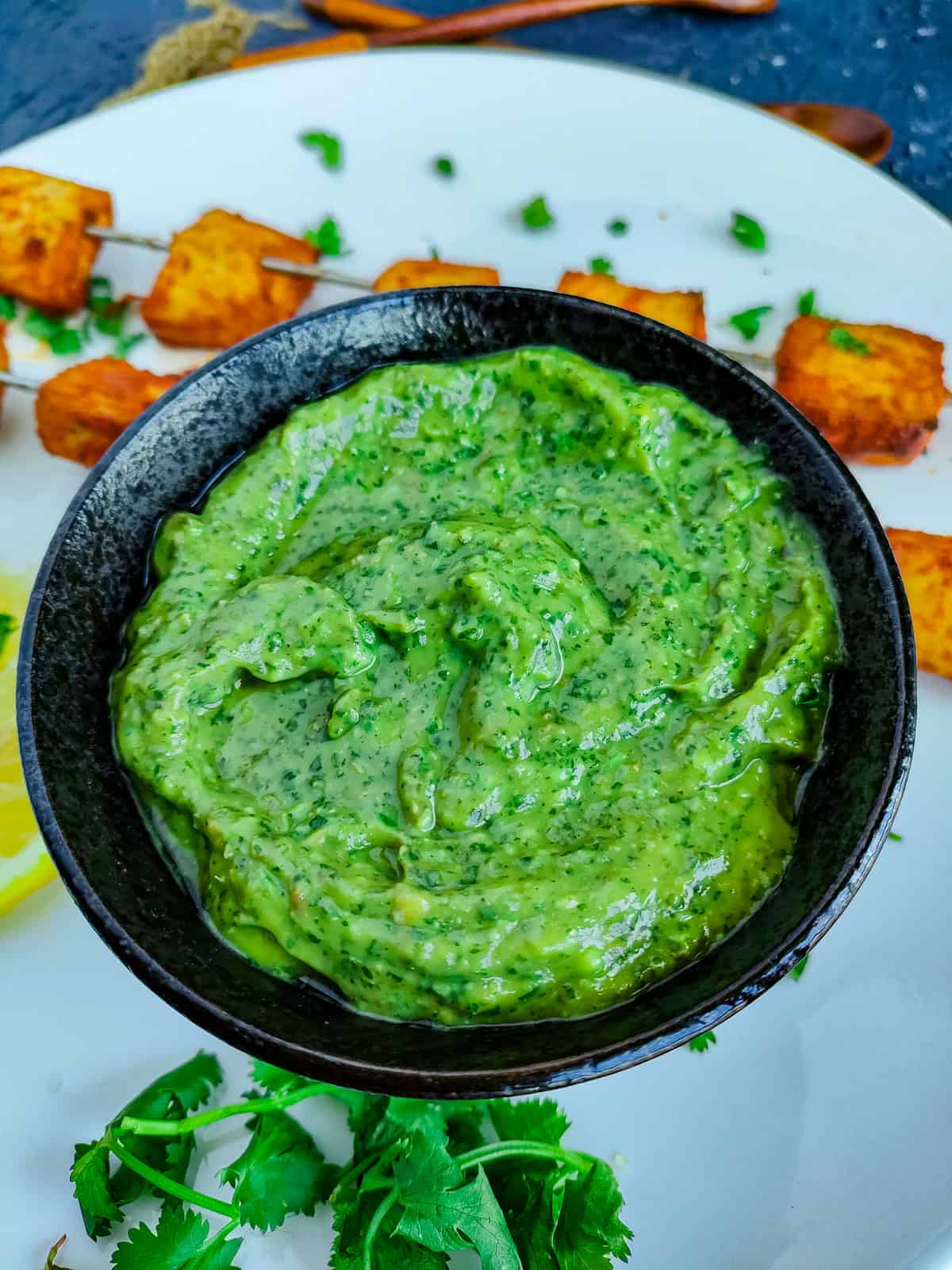 What to serve this chaat chutney with
Health Benefits of Avocado
Avocado is high in healthy fats and fiber.
It is rich in vitamins and minerals, such as B-vitamins, vitamin K, potassium, copper, vitamin E and vitamin C.
The avocado consists of 73% water, 15% fat, 8.5% carbohydrates (mostly fibers) and 2% protein.
Avocado helps in keeping your eyes healthy.
Avocado is an anti-aging powerhouse. It protects the skin from signs of aging and the harmful effects of UV rays.
Avocado helps in maintaining blood sugar levels, thus aiding weight management, protection from cardiovascular diseases and diabetes.
It has antioxidant properties and hence reduces the risk of cancer, liver damage, and Vitamin K deficiency-related bleeding.
Avocado enhances the absorption of nutrients by the body.
It helps to increase circulation, boost cognitive abilities, and build stronger bones.
Avocado contains heart-healthy monounsaturated fat that helps boost good (HDL) cholesterol and lowers bad (LDL) cholesterol.
Some interesting facts about avocado
Avocado is a fruit, which is botanically a large berry containing a single seed.
There are 160 calories in 100 grams (3.5 ounces) of Avocados.
It is native to South Central Mexico.
There are over 500 varieties of avocados in the world.
The avocado is colloquially known as the alligator pear because of its shape and the leather-like appearance of its skin.
They have a very long lifespan with some trees in Mexico over 400 years old.
Avocado trees do not self-pollinate; they need another avocado tree close by to bear fruit.
The avocado is an Aztec symbol of love and fertility, and they also grow in pairs.
More sauces and chutneys
Paprika feta dip is perfect for hosting a gathering or when simply craving a savory snack….
Healthy pesto recipe that's delicious without added calories from extra oil. Use this spinach almond…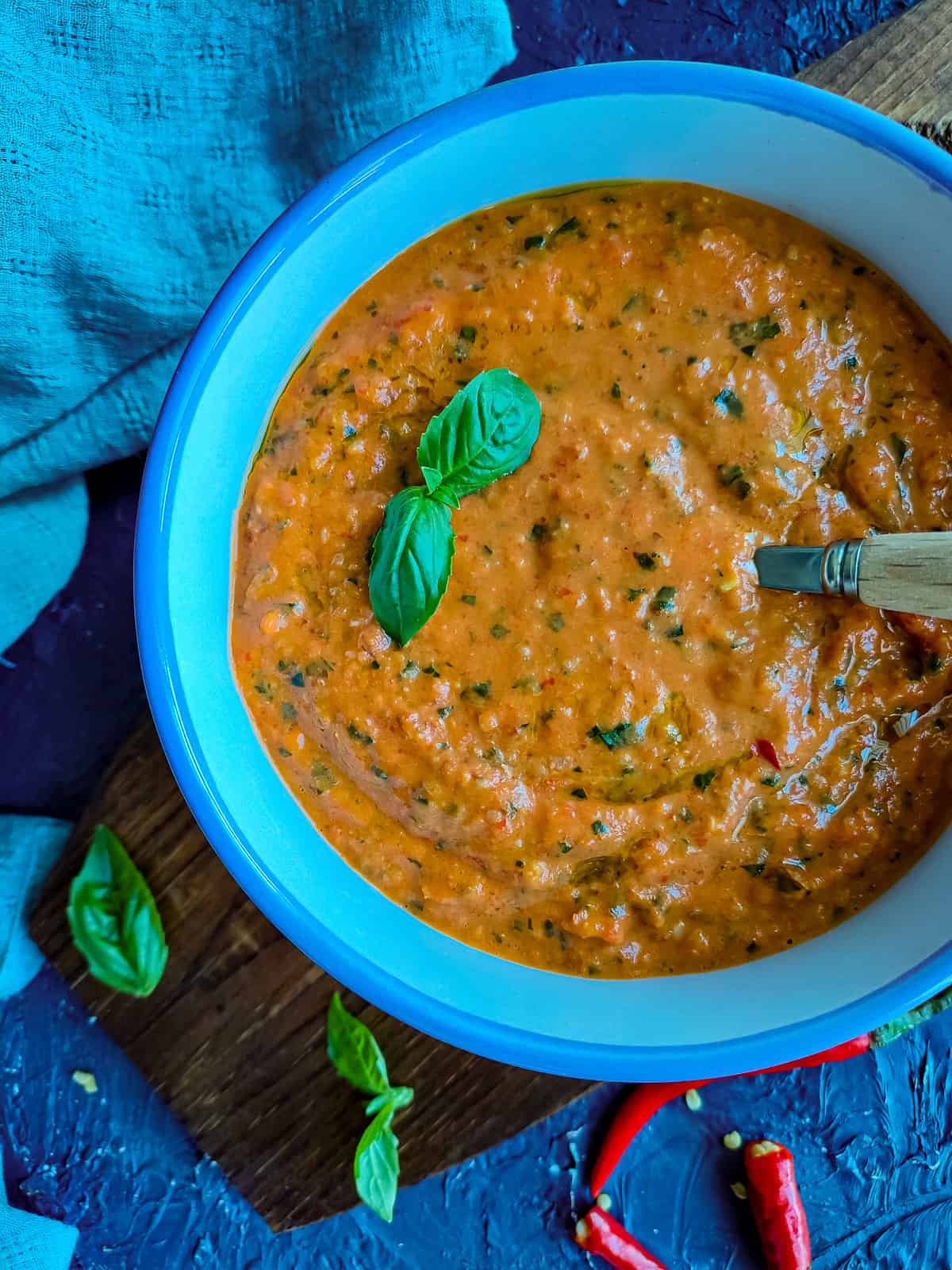 This red chilli pesto with almonds, roasted tomatoes and bell pepper is spicy, tangy and…
★★★★★Did you try this recipe? Please give a star rating in the comments below ★★★★★
HUNGRY FOR MORE? Join over 1000 home cooks like you who subscribe to my weekly newsletter to get all the latest recipes right in your inbox. Or follow me on your favorite social media: Facebook, Pinterest, Instagram, and YouTube. Thank you and happy cooking!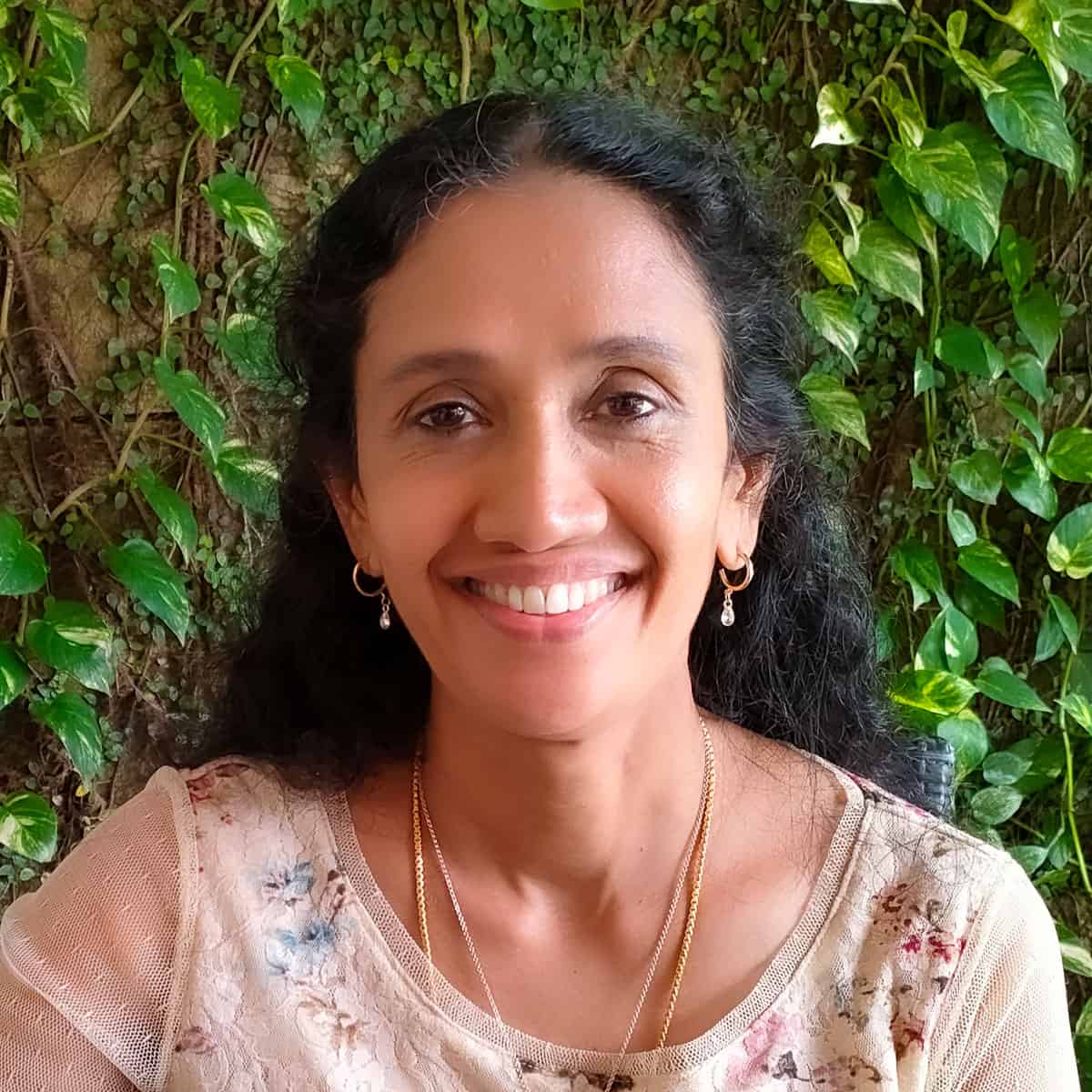 Hi! I'm Sheeba, welcome to Go Healthy ever after!
I have a passion for cooking delicious nourishing food that's easy to cook with fresh natural ingredients free from additives or preservatives. The easy healthy recipes you find here will inspire you to cook with creativity.
Copyright secured by Digiprove © 2020-2022